5 Top-Rated Tourist Attractions in Broome
Broome, a secluded tourist town drenched in tropical heat and surrounded by turquoise waters, is a gateway to the natural marvels of the Kimberley area in Western Australia's north. The views along this stretch of coast are breathtaking. The tidal flats of Roebuck Bay are dotted with a surprising range of shorebirds, with striking blue waters splashing against red-hued coastal rocks.
The town was formerly known as the world's pearling centre, attracting numerous Japanese, Malay, and Chinese divers seeking their fortune. Today, you may learn more about the town's rich past by visiting the museum or taking a popular pearl farm trip.
Sunset camel rides along Cable Beach's sweeping coastlines, sunbathing on Broome's beaches, kayaking, and whale-watching are all popular activities. Broome fishing is also great; it's one of Australia's best places for casting a line.
1. Cable Beach
Cable Beach, which stretches for 22 kilometres and is known for its brilliant white sand and turquoise water, is an iconic length of dazzling white sand and turquoise sea. The beach is named after a telecommunication cable that was installed between Broome and Java in 1889. Today, 4WD vehicles roll around the beach as sunbathers look for the ideal sand patch—and there's plenty of it.
Bring an umbrella or awning because the beach becomes very hot throughout the day. The seas are home to hazardous irukandji jellyfish from November to May, although swimmers may paddle along the coast at any time of year.
One of the most popular activities at Cable Beach is sunset camel rides, which are shown in numerous tourism brochures as silhouetted individuals padding along the coast on these elegant creatures. You may refuel at the restaurant and café after a day on the beach.
Keep a watch on the tides, since they can change by up to nine metres.
2. Horizontal Falls Scenic Flight
A beautiful seaplane ride to the spectacular Horizontal Falls is hard to match for an adrenaline-pumping adventure. The falls are really two small gorges pushed together by raging seas.
Horizontal Falls Full-Day Tour by 4×4 and Seaplane from Broome provides you different viewpoints of this stunningly gorgeous location. To begin, go around the Dampier Peninsular in 4WD to beautiful beaches. Then board a seaplane for a thrilling flight through the red cliffs and rocky islets of Western Australia's northwest coast's Buccaneer Archipelago, often known as the Thousand Islands, to Cape Leveque, with a water landing on Talbot Bay.
Passengers generally take a jet boat from here for an exciting ride through the falls. Shark feedings and shark swims add to the thrills (swimmers may watch the action from the safety of a shark cage), and a picnic lunch on a pontoon rounds off the day before your flight back to Broome.
If you just have a half-day, the Horizontal Falls half-day trip from Broome includes flights in both ways, allowing you to spend more time on the water.
3. Staircase to the Moon
Locals and visitors come to Broome's Town Beach for a captivating sight around two or three days a month between March and October. When the full moon rises over Roebuck Bay, its reflection gleams off the huge tidal flats, giving the image of stairs climbing into the twilight sky. A wonderful viewing point is the Mangrove Hotel, which overlooks the beach.
Town Beach hosts the Staircase Markets during this popular event, where shoppers may stock up on handcrafted presents and taste foods from across the world (cuisine ranges from Thai and Chinese to laksa, satay, and pizza). Live music adds to the joyful atmosphere.
Town Beach is a local favourite at other times, featuring a popular café where mom and dad may relax while the kids play in the neighbouring water park.
4. Gantheaume Point
Even seasoned photographers will be impressed by Gantheaume Point's dramatic contrast between red rocks and eye-popping blue water. The point is roughly six kilometres south of town, south of Cable Beach.
Dinosaur footprints, estimated to be more than 130 million years old, are scarcely visible in the exposed reef at low tide, but a plaster cast of them is implanted into the cliff's summit. If you're looking for tracks in the intertidal zone, though, make sure you're wearing the right shoes for clambering over the rocks.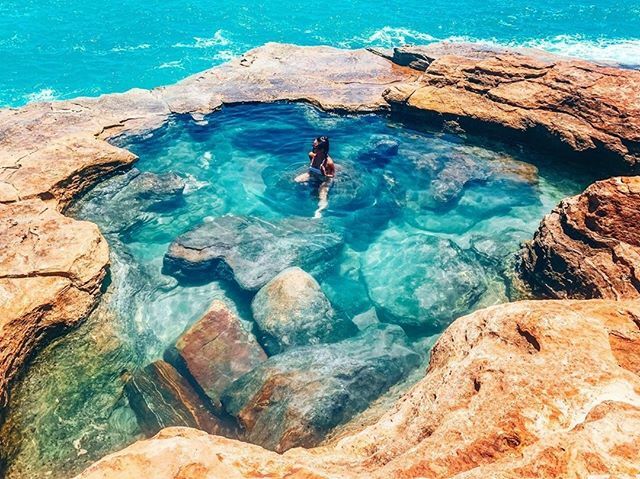 Anastasia's Pool is located at the end of the road to Gantheaume Point, with a lighthouse overlooking the Indian Ocean. This tiny rock pool was created by the old lighthouse keeper for his arthritic wife to wash in. On a hot day, it's a great location to soak.
A excellent fishing beach may be found to the left of Gantheaume Point.
5. Malcolm Douglas Wilderness Wildlife Park
Pet a kangaroo, cuddle a newborn crocodile, and witness the rare cassowary. Animal enthusiasts may get up up and personal with some of Australia's strangest and most fearsome species at the Malcolm Douglas Wilderness Wildlife Park, which is approximately a 15-minute drive from Broome.
This isn't just another crocodile park. Wallabies, dingoes, snakes, and lizards, as well as a variety of avian animals such as emus, cockatoos, and kookaburras, live in the park. Stay for the croc feeding at 3 p.m., when some of Australia's biggest crocodiles show off their remarkable agility by lunging for food.
12 Mile Bird Park, just a five-minute drive away, with an assortment of foreign and native birds representing 80 distinct species.