Best Beaches in Indonesia
Indonesia is frequently at the top of beach lovers' vacation wish lists, not just because of its extensive coastline, but also because of the high quality and diversity of its beach getaways. Looking for a remote island with a wild pebble beach with surfable swells? Or a white-sand beach with palm trees and world-class resorts? What about a pink-sand beach with great snorkelling close to the shoreline teeming with large lizards? In Indonesia, you can discover a beach that matches your concept of paradise.
Make sure you have sunscreen, swimsuits, and footwear on hand. Then use our list of the top beaches in Indonesia to plan your ideal holiday to Southeast Asia.
Nongsa Beach, Batam
Bintan isn't the only beach destination accessible from Singapore. Tourists may also enjoy the sun, sand, and surf on the beaches of nearby Batam, which is part of the Riau Islands. Nongsa Beach, one of Batam's greatest beaches, is within a 20-minute drive from the airport. The Singapore skyline can be seen from the golden sands of this lovely beach location, which is surrounded by lush foliage.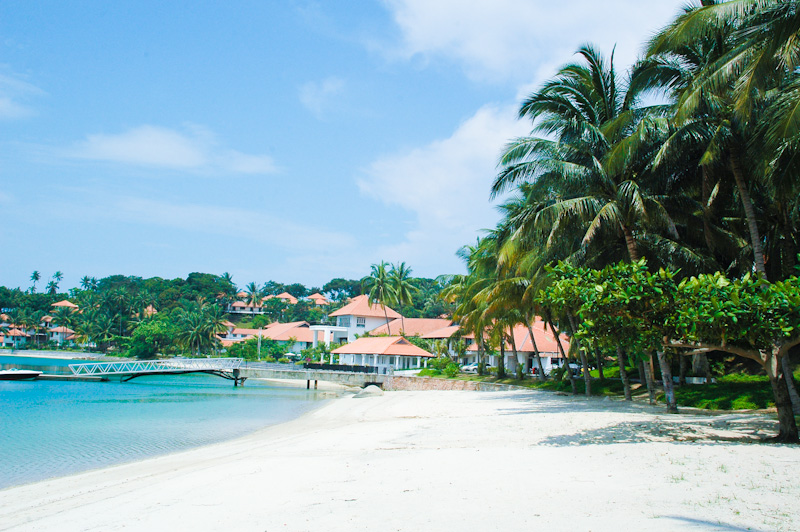 Nongsa Beach attracts a large number of visitors who come for the water activities. Whether you want to zip about in a banana boat, defy gravity on a parasailing experience, ride the waves while windsurfing, or hire a pair of Jet Skis for the day, an operator can help you out.
Pangandaran, Java
The island of Java is best known for major cities like Jakarta and cultural jewels like Yogyakarta and Borobudur, but it's also a fantastic place to unwind along the shore. Pangandaran, on the island's south coast, is home to some of Java's greatest beaches. Tourists may unwind on the silky white sand while admiring the beautiful sea, which appears to be in every shade of blue. The laid-back atmosphere and natural landscape are a welcome change from the urban sprawl found everywhere on Java.
Pangandaran is home to some of the greatest surf breakers in the region, which explains the number of surf schools and board rental businesses in the area. If hanging 10 isn't your thing, take a long walk up the beach as the sun sets over the horizon to admire the incredible surf.
Seminyak Beach, Bali
Do you want to get away from Kuta's throng and craziness? Make your way to Seminyak Beach. This beach, which is only 25 minutes away by vehicle, feels like a delightful retreat from the tourist traps.
Seminyak Beach is one of South Bali's most affluent beachside hangouts. The five-kilometer-long beach is flanked with five-star resorts, outdoor restaurants, and beach clubs, with large expanses of golden sand. At La Plancha, a bright beach shack serving freshly caught fish and refreshing beverages near Seminyak's famed surf break, try to nab one of the hundreds of stylish bean bag beach chairs. Every evening, it transforms into an outdoor theatre for people to watch the sun set.
Mangsit Beach, Lombok
Avoid the white-sand beaches of the rest of Indonesia and opt for something a little different: black volcanic sand that shimmers in the sunshine. It's in Mangsit Beach on Lombok, about a five-minute drive from Senggigi. The moderate surf offers an ideal swimming setting.
If you want to relax, you won't be bothered by touts, rowdy restaurants, or large crowds. Mangsit Beach is less developed than other beaches on Lombok, which is one of the things that makes this lovely coastal location so appealing.
Air Manis Beach, Sumatra
Low waves, bronze sand, vistas of volcanoes, and warm saltwater characterise Air Manis Beach in West Sumatra, making it one of the greatest beaches in Indonesia. It's also recognised for another oddity: Batu Malin Kundang, a strange rock structure that resembles a kneeling man.
A lowly sailor stole on a commercial ship and accumulated his own wealth, according to a Southeast Asian folktale. When he returned to his hometown, he felt ashamed of his modest beginnings and avoided his ailing mother. She cursed him, turning his corpse and ship to stone, which is currently on the beach at Air Mains. As you bask in the sun in this beautiful setting, think about the mythology.