Best Beaches in Singapore
Sentosa Island, situated off the southern coast of the main island and one of Singapore's major tourist destinations, is home to some of the city's most stunning beaches. Sentosa was formerly a British military post and prisoner-of-war camp, but it has since grown into an entertainment destination with hotels, golf courses, a Universal Studios park, and a gorgeous white-sand coastline.
Palawan Beach, Siloso Beach, and Tanjong Beach are the three portions of Sentosa's two-kilometer-long beach. The beach is entirely artificial, having been built by reclaiming land from the sea and then filling it in with imported sand from Malaysia and Indonesia.
Tanjong Beach
Tanjong Beach is the most quiet and distant of the three beach areas, located on gorgeous Sentosa Island. This isn't to say you'll be entirely alone there; Sentosa Island attracts over 20 million people each year, but Tanjong Beach has a greater chance of finding a peaceful area among the palm palms.
On weekdays, the beach is much quieter. Arrive in the evening to see the sparkling lights of cruise ships passing by in the distance.
The beach is located on a crescent-shaped bay and is surrounded by trees that provide shade from the sun. The beach is the whitest it has ever been, and the sea is warm and inviting for swimming. Tanjong Beach is also dog-friendly, so you'll witness a lot of people diving into the sea with their dogs.
Do you require a change of scenery? The Tanjong Beach Club is a big attraction and the only location to eat food on this beach. It has a pool, deck chairs, and cabanas, as well as twice-monthly live music events.
Siloso Beach
On Sentosa, the activity is at Siloso Beach. This is where you should be if your notion of sand fun involves kayaking, beach volleyball, or even water jet packs.
It doesn't get much better than Siloso for dining and shopping, with everything from conventional beach cafes serving fast food and pizza to Hawaiian-themed cuisines, fresh fruits, and even poke bowls. The coastline is studded with shopping shops and cafés, providing lots of alternatives for when you need a break from the golden beaches.
Siloso is Singapore's trendiest beach, with live music, cafés, and some of the island's finest attractions all within walking distance of the sand. Bit sun loungers are not permitted on the beach, you are welcome to bring a blanket and rest on the smooth sand for a while – however this is not the type of calm beach where you can read a book.
Do you want the finest views in town? The adjacent MegaZip zipline takes you 450 metres over the ocean and along the shore, providing breathtaking views. There's also a 50-meter-high bungee jumping tower, rock climbing, two luge tracks (one of which has neon lights and can be ridden at night), a chair lift ride, and rollerblading.
Palawan Beach
Palawan Beach is the most well-known of the three areas of Sentosa Beach. It's in the heart of the island, at the conclusion of a stunning suspension bridge with observation towers on both ends.
Climb all the way to the top for a panoramic view of the ocean, tropical vegetation, and coastline. Then return to the smoothest white sand and listen to the waving palm palms all around you as you stroll. With tranquil, warm blue seas, this is Singapore's greatest swimming spot.
Palawan is Asia's closest point to the Equator, and it's brimming with photo chances. It's a short walk from Tanjong Beach, and while it has more attractions and activities, it's still a lot more laid-back than Siloso. There are many families here, as well as lone tourists and couples seeking for a relaxing spot to relax and have a picnic.
When you're ready to have some fun, go swimming along the coast, visit the indoor entertainment complex KidZania, experience the immersive virtual world at MOSH!, or dine at one of the numerous seaside cafés and restaurants.
Changi Beach
Changi Beach is part of Changi Beach Park, a 3.3-kilometer-long park known for its expanses of golden sand. Changi Beach lacks the fashionable, modern vibe of Sentosa Island's beaches, which is part of what makes it so special. The region has the atmosphere of a kampong, a typical floating hamlet found across Asia.
The Changi Ferry Terminal, which is located adjacent to the shore, is the best way to come to Changi. Despite the fact that crocodile sightings are common, this is nevertheless a favourite swimming site.
If you want to stay on land, there are lots of BBQ pits, kayak and canoe rental businesses, and numerous restaurants that serve outdoor meals. Changi Beach is ideal for a relaxing day at the beach; visitors come to view the sunset or low-flying jets headed to the local airport.
There are lots of locations to camp along the beach, or you may go to Changi's northern point to locate the nicest resorts in the region. Kayaking classes are available at the Sea Sports Club, and there is a boardwalk that leads all the way back to the shore.
Punggol Beach
Punggol Beach will feel like a tropical paradise to those who want to escape the hustle and bustle of Singapore life for the day. Punggol has been cleaned up and re-imagined throughout the years, having been the scene of the 1942 Sook Ching Massacre and afterwards a relatively rural region where wild pigs thrived. Today, it provides a peaceful haven in Northern Singapore, where you can sink your toes into the golden sands or have a refreshing swim in the blue seas.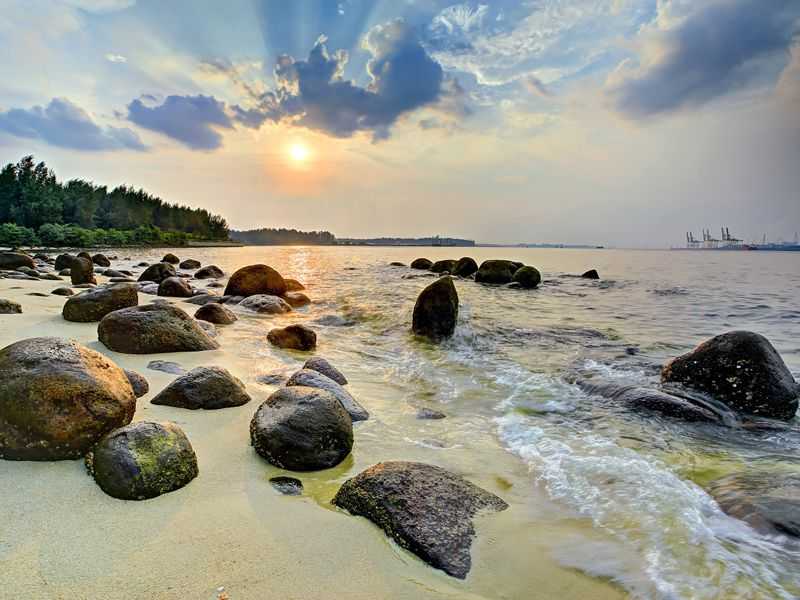 The numerous rocks on the beach provide magnificent vistas as the sun rises and sets over the ocean, making Punggol a popular location for photographers and nature enthusiasts.
Punggol Settlement, only steps from the beach, is a neighbourhood with many restaurants and cafes, as well as places to hire bicycles, explore the Lorong Halus Wetlands' wildlife and flora, and walk along Punggol Promenade (where the Punggol Jetty is located) and Punggol Waterway Park.
St. John's Island
For nature enthusiasts, Singapore's many outlying islands provide lots of excitement. Visitors to St. John's Island will be pleased to learn that this includes not just beaches but also caverns and mangroves, which may be explored on short treks.
The beaches of St. John are small yet golden and smooth, with abundance of stunning coral reefs around. They're a fantastic spot to unwind while listening to the waves breaking on the beach. Swimming lagoons, picnic areas, and a rustic feel can all be found on the island, which will appeal to those looking for a more relaxing vacation.
The many free-roaming cats that populated St. John's earned it the nickname "cat island." However, during the last few years, the SPCA's effective trap-neuter-return programme has decreased the population to a tolerable level, which is now being cared over by devoted caregivers.
You'll need to take a ferry from Singapore's major Marina South Pier to go to the island. If you don't have lodgings on the island, the last boat return departs at 5 to 6 p.m. depending on the day of the week, so be sure you don't miss it. There is no food available for purchase on the island, so bring your own if you plan on having a picnic.
Lazarus Island
Lazarus Island, which is connected to St. John's Island by a bridge, is a well-kept secret and one of Singapore's most secluded beaches. The C-shaped lagoon and one of the whitest sandy beaches in the area are only a few minutes' walk from the bridge.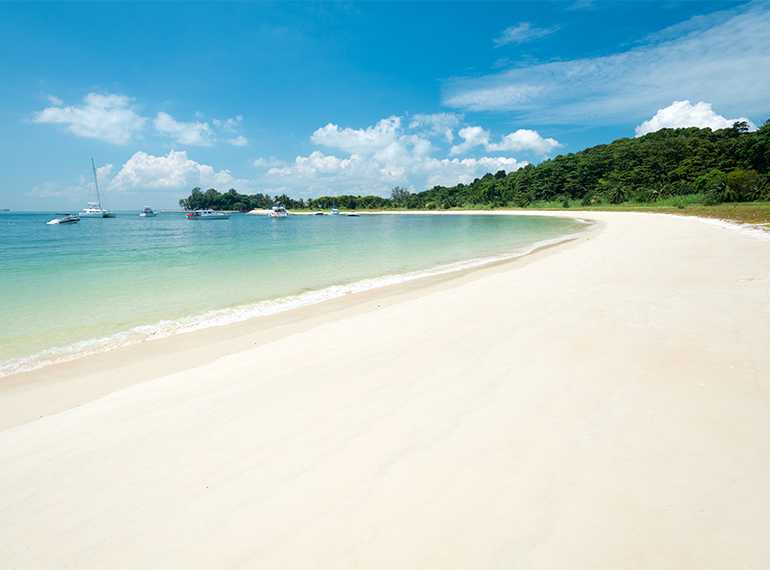 The quiet beach is usually always deserted, especially on weekdays, and is ideal for a stroll or a dip in the beautiful blue seas.
Picnics are very common at Lazarus. It has lots of shade, thanks to the coconut trees that line the beach, as well as a rain shelter for when it rains in the afternoon. Because there are no amenities on the island (no food or lodging, and no bathrooms), visitors need carry everything they need for their stay.
Visitors coming to Lazarus Island may focus on sunbathing, swimming in the beautiful seas, and enjoying walks on the beach because there are no entertainment alternatives available and no construction can be seen.
After a few hours of leisure, return to St. John's Island and rent a boat to explore Kusu and the surrounding islands.