Best Things to Do in Kerala Vacations in 2021
Kerala is truly deserving of the title of God's Own Country. Kerala is one of the most beautiful locations in the world, not just in India, due to its amazing experiences. Kerala has a lot to do, from the lush Western Ghats to the beautiful beaches along the Arabian Sea, endless backwaters, breathtaking wildlife sanctuaries, and age-old traditional Ayurveda centres.
Any experience is a treasured memory in this region known for its stunning scenery. Kerala is incredible, if you choose to stay in gorgeous tree houses, take a houseboat ride on the backwaters, participate in adventure activities, indulge in pampering Ayurveda, learn about ancient history, or do all of the above.
Here is a rundown of the best things to do in Kerala for your vacation, honeymoon, or enjoyable vacation with relatives.
Houseboat ride on backwaters in Alleppey
Alleppey is one of Kerala's most popular tourist destinations. This is a nature lover's paradise, with its beautiful backwaters. Cruising the backwaters on a traditional houseboat is one of Kerala's most interesting encounters. It is, above all, a real pleasure, whether it is for a holiday with your whole family or a honeymoon with your sweetheart.
Explore the rich greenery, swaying palms, ancient cities, and more of the blessed eco-sphere. Take advantage of the luxuries as well as the basic amenities, such as breakfast, lunch, dinner, and snacks.
Kolukkumalai Tea Plantation
Kolukkumalai, home to one of the world's largest tea plantations, is renowned for fun, leisure, and old-world elegance. Explore rugged trails and take in the rolling hills' stunning scenery. The main draw is sight-seeing, but the rare experience of tasting tea in the middle of the plantations is equally appealing. In addition to paying a visit, you will be able to purchase fresh tea packets from a section of the main factory.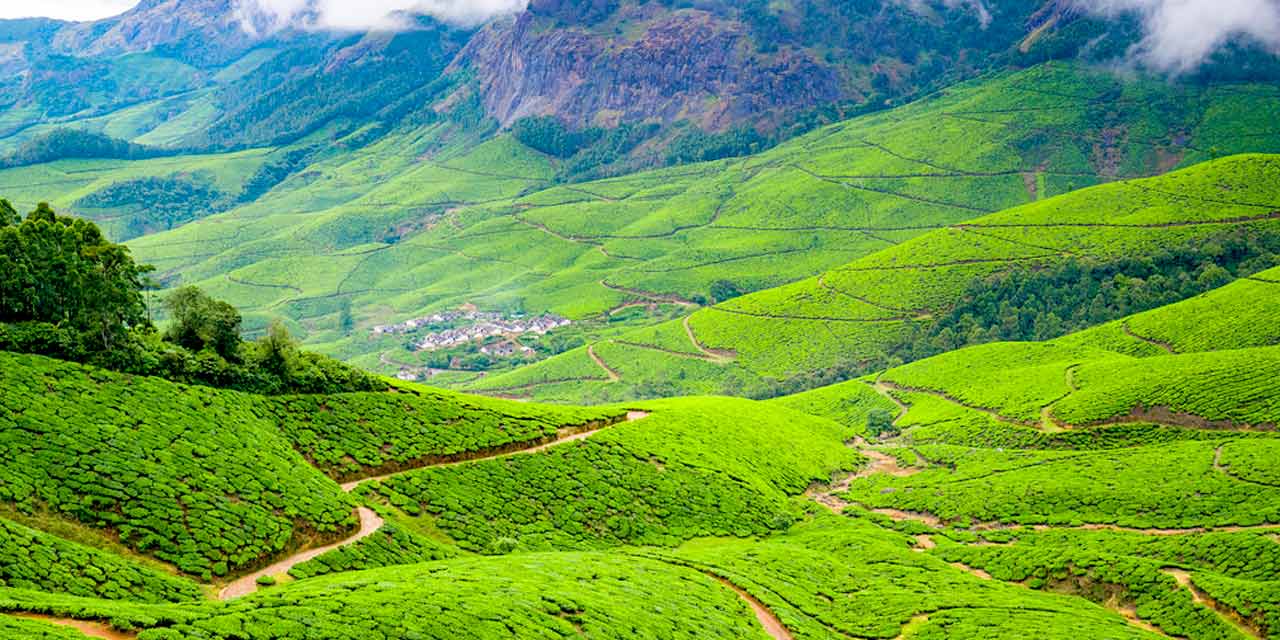 Backwater stretch of Ashtamudi
The Ashtamudi backwaters are one of Kerala's most scenic spots. The area is known for its 16-kilometer-long backwaters. The breathtaking view is made possible by eight lakes, including Kanjirottu, Kumbalath, Kureepuzha, Kandachira, Perumon, Thevalley, Kallada, and Kumbalath, which give the area the name Ashtamudi, or "the eight arms of the lake."
The elegance is enhanced by traditional houseboats, short cruises, and fishing nets. Touring through the backwaters of Ashtamudi allows you to rediscover paradise.
Attend a Kathakali Performance
Kathakali, a cultural gem of Kerala, is one of India's classical dance styles, having originated here. A interesting image is produced by elaborate masks drawn in different vivid hues, incredible textures, make-up, and costumes. Attend a show to be enthralled by the art form of dance. It is one of Kerala's most memorable experiences.
Surya Samudra Kovalam
Surya Samudra is one of the best luxury hotels in Kovalam, known for its romance and bliss. In Trivandrum, take in a scenic view of the sea. Niraamaya Spa offers a variety of spa services. The rooms are spacious, with terracotta roofs, wooden pillars, and tiled floors, giving them a dreamy, comfortable feel.
Enjoy a relaxing break from the hustle and bustle of city life. It is one of Kerala's most treasured moments that you must include in your vacation.
Varkala Beach
Varkala, one of India's best beaches, is not only a must-see destination in Kerala, but also an unforgettable experience. The seashore along the Arabian Sea, which is dotted with cliffs and beaches, is a sight to see, as well as a source of adventure.
Varkala beach, in particular, is known for sunbathing, fishing, and relaxing in tranquil surroundings. Often regarded as a pilgrimage spot, where devotees come to seek forgiveness and repentance from their sins.
Vivanta by Taj, Bekal
Kerala's holidaymakers would undoubtedly find it to be a sanctuary. The Taj Bekal pampers you in one of its 66 laterite villas and quarters, each with its own distinctive architecture. Bekal the hotel caters with its utmost elegance, overlooking one of India's most gorgeous beaches.
Vivanta's elegance is described by the Ketuvallam houseboat, leaf paintings, spiritual themes, and serenity. In comparison, the Taj's opulence makes a stay at this luxurious hotel one of Kerala's best things to do.