Best Tropical Vacation Places
Dreamy beaches, silky smooth waters, lush landscape, and unending sunlight are just a few of the components that make up the perfect tropical vacation. However, each location has its own seductive allure. Some people are stunning in their inherent attractiveness. Others add cultural attractions such as unique traditions, architecture, and delectable cuisine to the mix. Some quiet islands appear to transport you back in time, while others offer eco-adventures and wildlife-rich wilderness.
Maldives
The Maldives, a string of 26 natural atolls stretching across the Indian Ocean southwest of India and Sri Lanka, radiate an almost dreamlike beauty, thanks in large part to the dazzling blue seas that surround them. If plunging into the crystal-clear, soul-warming sea is a must-do for your ideal tropical holiday, the Maldives is the place to be, since water makes up 99 percent of the island nation. Surprisingly, it also threatens to inundate the low-lying island nation's coastline.
Male' is the capital, but most guests fly out to one of the isolated atolls, where luxury resorts and turquoise waters surround bone-white beaches.
The Maldives offers world-class diving and snorkelling, as well as being a top surfing destination, with the most popular surf areas being in the North and South Male' Atolls.
Swimming with manta rays and whale sharks, as well as big-game fishing, are other popular pastimes. The Maldives is also an excellent choice for a cruise holiday, with water as a main point and so many islands to pick from.
Bora Bora, Tahiti
Bora Bora is the epitome of South Pacific bliss. This lush and stunningly picturesque French Polynesian island rises to a high emerald peak surrounded by an azure lagoon. Luxury bungalows hover above the crystal-clear seas, some with glass floor panels so you can gaze into the teeming sea below, while coconut trees sway along the beaches.
While Bora Bora is known for its natural beauty, it also has a strong cultural attraction. The national language is French, and the gourmet food has a strong Gallic influence. With a plethora of exciting water activities, kayak tours to tiny motu (islands), scenic hiking trails, and thrilling shark dives, it's easy to understand why many visitors consider expensive Bora Bora to be a top honeymoon destination and a once-in-a-lifetime tropical getaway.
Riviera Maya, Mexico
The Riviera Maya (Mayan Riviera) in Mexico is a fantastic choice if you're searching for gorgeous beaches, culture, and zesty food at a reasonable price. The Mayan Riviera stretches along the Caribbean coast from the point of the Yucatán peninsula to the island of Cozumel, and includes the tourist attractions of Cancn, Playa del Carmen, and Cozumel.
You are not required to stay at a large, crowded all-inclusive resort, though there are many along the long, picture-perfect beaches. There are also yoga retreats and intimate boutique hotels in the mix. In the warm, clear seas, swimming with stingrays and dolphins, diving, snorkelling, and fishing are popular sports, while culture vultures may visit the spectacular ancient ruins of Tulum, perched above the blue Caribbean Sea, or Chichén Itzá, a few hours' drive from the resort strip.
Editor's Pick Aitutaki, Cook Islands
With strong links to New Zealand, Aitutaki in the Cook Islands is a dream location for would-be castaways. Aitutaki ticks all the boxes for the ultimate exotic tropical holiday, with a dazzling turquoise lagoon, verdant peaks, beautiful beaches bristling with palms, and some of the friendliest people in the South Pacific.
The Cook Islands' largest island and primary tourist destination is Rarotonga, but Aitutaki, a 45-minute flight away, is the crown gem, and that's saying a lot in an archipelago of 15 stunning tropical isles. Swimming, snorkelling, kayaking, and fishing are all excellent, and the island provides a glimpse into the relaxed village lifestyle, which comes to a standstill on Sundays for church services.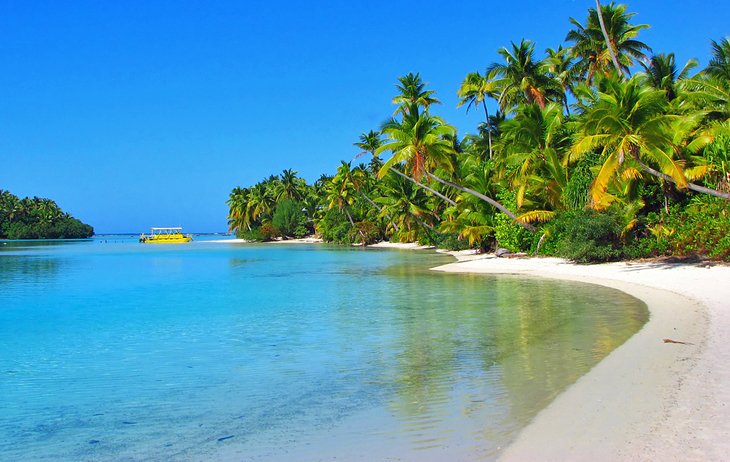 The lagoon is surrounded by more than 20 motu (small islands), and the little island of Tapuaetai (One Foot Island) in its southeast corner is a popular excursion with a wonderful view of the lagoon. Choose a luxury over-the-water villa if you truly want to indulge. You may paddle to your own little motu from here, sit beneath a palm tree, and pretend to be Robinson Crusoe for the day.
The lagoon is surrounded by more than 20 motu (small islands), and the little island of Tapuaetai (One Foot Island) in its southeast corner is a popular excursion with a wonderful view of the lagoon. Choose a luxury over-the-water villa if you truly want to indulge. You may paddle to your own little motu from here, sit beneath a palm tree, and pretend to be Robinson Crusoe for the day.
Kaua'i, Hawaii
Kaua'i, often known as the Garden Isle, is a tropical paradise with lush rainforests, waterfalls, and breathtaking green coastline peaks. The island has a more laid-back attitude than its popular sister islands, Maui and Oahu, and is a natural marvel of stunning lava-sculpted scenery. Though Kauai is recognised for having one of the wettest climates on the planet, the island is divided by microclimates, with the region near touristic Poipu being the driest.
Underwater, beautiful coral reefs are home to turtles and tropical fish. On land, you may relax on golden beaches, climb amid the velvety hills of the magnificent Napali Coast, and explore the deep and jungly 10-mile-long Waimea Canyon. Other popular tourist attractions include tropical gardens, waterfalls, charming coastal villages, and great surf breaks.
Don't be shocked if you see snoozing monk seals on the beach; nature reigns supreme here, and that's a huge part of the island's attraction.
The Mamanuca Islands, Fiji
If you're looking for a sunny South Seas island, the Mamanuca Islands in Fiji are the place to go. This picture-perfect string of around 20 islands, just a short boat trip from the gateway town of Nadi, is known for its sparkling palm-studded beaches, crystal-clear seas, and healthy coral reefs. When you first see these tropical wonders, you'll understand why Survivor and the Tom Hanks film Cast Away were filmed on these islands. Your budget and preferences will decide which Fiji island is ideal for you when deciding where to visit.
Vomo Island Resort, Likuliku Lagoon Resort, and the adults-only Tokoriki Island Resort provide everything from lively backpacker resorts to family-friendly hotels with thatched bures (traditional huts). Matamanoa Island Resort, Malolo Island Resort, Mana Island Resort, and Castaway Island are all popular mid-range resorts.
Cloudbreak, one of the world's best surf breakers, is roughly a mile away from Tavarua Island Resort, although it may also be reached from other island resorts. Because the people of Fiji like children, it's also a great place to visit if you're seeking for a relaxing vacation with your family.
St. Barts, The Caribbean
If you enjoy the dazzling jet-set lifestyle, exclusive homes, and beautiful beaches, St. Barts should be at the top of your list. All of this, though, comes at a cost. Because of the continual influx of visiting movie stars and mega-moguls, lodging and meals are more expensive here than in other places, especially during peak season. In exchange, you'll enjoy gorgeous blond beaches bordered by green hills, world-class shopping and eating, and a cultural refinement lacking in many other tropical locations.
Low season, like everywhere else, provides amazing prices, and all of the beaches are public, so you can hide away in a private villa or boutique hotel and live like the wealthy and famous for a fraction of the price. Popular activities include snorkelling, diving, kite-surfing, kayaking, fishing, surfing, and sailing, in addition to sunbathing on the beaches, shopping, and eating on delectable continental fare.
Saline Beach, Gouverneur Beach, and Lorient are the best beaches, while Gustavia, the red-roofed capital, is one of the most beautiful cities in the Caribbean.