Jeju Island – A Hidden Gem
For travellers looking to go offbeat this holoday season, Jeju Island is the perfect destination, with its picturesque ensemble of volcanic mountains, forests and lava tubes. Sprinkled with a number of waterfalls and endowed with a brilliant coastline, this island has it all, for the travel hungry. While it is not as well known as the other popular destinations in South Korea, Jeju Island is definitely deserving of a place on your travel journal.
Hallasan
Towering over the island, is the tallest mountain peak of South Korea, Hallasan, which is a shield volcano. Standing at 1950 metres tall, this regal peak offers a breathtaking view of the horizon and is adorned by a beautiful crater lake. Tourists can reach the top and make a safe return with a day's worth of hiking. The mountain offers a variety of trails, of different lengths and difficulties, to suit your degree of adventurousness.
Sunrise Peak (Seongsan Ilchulbong)
One of the main tourist attractions of Jeju Island is the Sunrise Peak. If the weather forecast remains favourable, there should be no hesitation in making an early morning trip to this viewpoint because the breathtaking sunrise will be worth getting out of bed for. Travellers can also opt to spend the previous might in Seongsan-ri, a peaceful village, adjacent to the peak, to make the morning trip a little easier.
Haenyeo
Jeju Island is home to not only a myriad of natural phenomena, but it is also a hub of cultural heritage. In the olden days, fishermen used to disappear on their boats for days on end and the onus of gathering means of survival fell on the women. Having been taught to dive at a very tender age, some women in Jeju delve deep into the ocean water in search of food even to the age of 80. Immensely skilful in their craft, these women can stay under water for several minutes without any breathing aid.
Tea Fields at Daheeyeon
Getting an adrenaline rush from visiting tea fields is something only visitors at Jeju Island can experience. Travellers can choose to enjoy a peaceful, refreshing walk through the vast tea gardens. Another way to explore is by zip lining over thousands of acres of tea plantations in eastern Jeju. With breathtaking views of Mount Halla and the beautiful coastline along with the main attraction, the tea fields, this experience will leave tourists exhilarated and satisfied, in one go.
Woljeongri Beach
A little more secluded than the rest of Jeju Island, this sprawling white sand beach along the eastern coastline is the perfect place to wind down after a packed couple of days of sightseeing. The crystal clear water invites travellers to take a dip and wash away all their fatigue. Away from the bustle of populated tourist spots, this beach should find its way into the latter stage of every itinerary. Quaint little cafés are littered along the shoreline, offering you everything from a croissant to a cappuccino.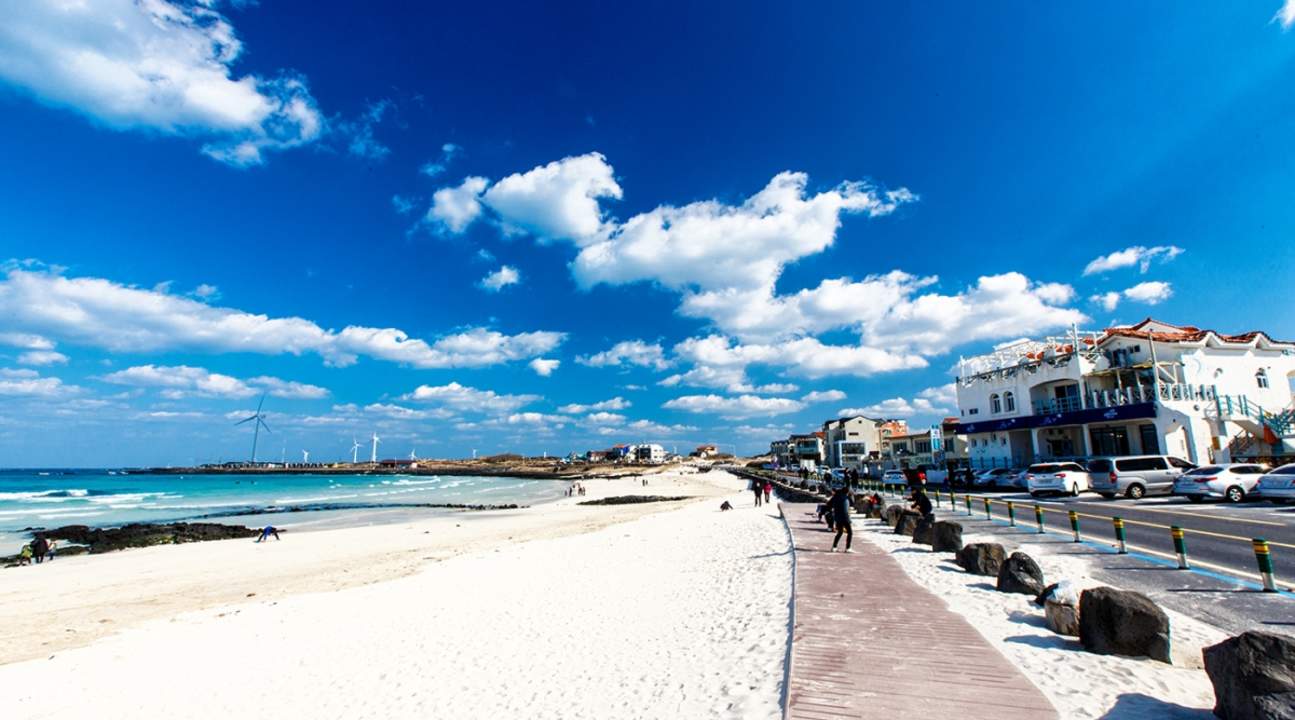 Soesokkak Estuary
Located in the Seogwipo district, the Soesokkak Estuary is one of the biggest tourist attractions in Jeju Island. A picturesque infusion of stream with sea resulting in various hues of blue make the water look pristine and mysterious. The area is well known for its abundant tangerine trees and the sweet smell of fruit allures tourists to this beautiful place. The optimal sightseeing method is hiring a canoe or kayak, and sailing through the picturesque estuary. The banks are lined with pine trees and unique lava formations which make the ride a memorable one.
Conclusion
Jeju Island might not be the most popular of tourist destinations as of yet. But it should definitely be making its way into every travel lover's dream destination diary. From natural beauty, to cultural richness, this place has everything to offer, ensuring that you leave this hidden gem with a happy heart and a satisfied soul.