Kochi's 6 Best Adventure Sports
Kochi is well-known for its geological and scenic splendour. It's past time for us to defy norms and visit Kochi's more adventurous and nerve-wracking locations. So these are the top five locations where you can have the time of your life when participating in a variety of action sports. Continue reading to learn more!
1. Scuba Diving
Given Kochi's location on the river, it's only natural that it offers a wide range of water sports. All of them is scuba diving. Here you can see marine animals as well as photograph and film it. The game lasts approximately 45 minutes and is one of the must-do adventure sports in Kochi. To enjoy the sport, you do not need to know how to swim or be an outstanding swimmer. It's easy to do and can be enjoyed by all. Before you leap into the water and see the real thing, you'll be taught by a coach diver. It begins and concludes at Scuba Kochi Drive Centre.
2. Water Skiing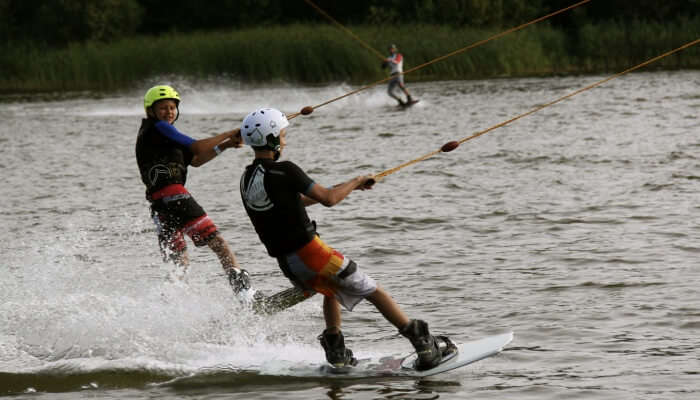 Water skiing is a must-do when it comes to water-related adventure sports in Kochi. Here you can take in the views of the still waters that stretch out in front of you and discover the waves that are now relatively unexplored. The best aspect is the sport's safety, when it is done in the presence of a specialist. The sensation of floating over water is a once-in-a-lifetime experience. The location for the operation, however, will be told only after you book for the same. The practise begins in the early morning, about 6 a.m., and lasts until the early evening, around 6 or 7 p.m. Another thing to bear in mind is that the activity, with all of its enthusiasm and thrill, will make you dizzy.
3. Beach & Backwater Cycling
This is the sport for you if you are a high-energy person who enjoys a lot of exercise. The journey starts in Fort Cochin and soon departs from the crowded city streets to reach rural areas where you can enjoy the peace and engage with the locals. The exercise is not very dangerous, and you will be supplied with all appropriate equipment, including a protective helmet and even a gear-changing bike. Kochi is a lovely city. And what better way to appreciate its beauty and sweetness than on a leisurely cycle tour of the area, especially the old quarters, beaches, and backwaters. At around 7:00 a.m., the operation begins.
4. Kayaking
Kayaking is one of Kochi's most adrenaline-pumping water adventure activities. It moves along in the water using a Kayak, but the sitting postures and location of the paddles vary from canoeing. When the ocean hits your skin and the breeze blows through your hair as you're participating in a sport, it's a moment to remember. This is one of the most thrilling and entertaining experiences of all time until you sync with your trainer or whoever else is with you. This, too, takes place in the early morning hours, about 7 a.m., and the precise location of the operation will be communicated to you only after you have made a reservation.
5. Banana Ride
This is an exercise that can be done alone, as well as in and through a squad. Because of the adrenaline and thrill, this high-speed water sport will make people dizzy. To stop any mishaps, closely observe the directions. You get a detailed and breathtaking view of the shorelines during the activity, and you'll feel like you're sitting on top of the planet for five minutes as you float over the waves in the banana-shaped vessels. This is one of Kochi's finest action sports, and it begins early in the morning. It has a strong management unit, since you get a confirmation coupon as soon as you book a slot for your operation. Keep the party small to get the most out of the trip.
6. Bhoothathankettu Trekking
This is a dam that also serves as a tourist attraction. The ambiance and aura that the location provides are enough to pique the interest of those who visit it. The place's mystical and historical past makes it a must-see, and trekking here is one of Kochi's finest adventure sports. It is said that when Tipu Sultan and his army were resting near the dam, planning to invade Kerala later, some heroic men opened the dam's gates, triggering a massive flood, forcing the army to scatter. You couldn't have a better idea of a peaceful adventure than alone amidst the greenery with the dam's water right in front of you.
So, if you're looking for a new perspective on life with a dash of fun, this is the place to be! Kochi's many thrilling action sports can pump up your adrenaline while still showing you a different side of the city. So, don't wait any longer and start planning your journey to Kerala, this time for more than just the backwaters!