The Best Things to Do in Canada
Whether you're looking for outdoor adventure such as hiking, bicycling, whitewater rafting, or skiing, or just want to relax on a gorgeous stretch of sand or pitch a tent in a secluded provincial park, there are plenty of activities to do and locations to visit across Canada. It's a friendly country that allows you to craft out any vacation experience you choose. Canada has so much to offer foodies, history enthusiasts, families, couples, and groups of friends that no one will feel left out. Here are 25 of the finest things to do in Canada for those starting the planning process or simply searching for vacation ideas.
See the Northern Lights in Yukon
There's a reason why the Northern Lights (Aurora Borealis) are on so many people's bucket lists. That's because they're an almost surreal sight, sweeping over the sky in magnificent panoramas of varying hues. The Yukon is one of the finest sites in Canada to catch a glimpse of the Northern Lights, visible from mid-August to mid-April (best observed between 10 p.m. and 3 a.m.). Driving outside of Whitehorse, the capital city, or booking a guided trip with a local business is your best choice for excellent views. Another wonderful place to see the natural phenomena is from the Takahini Hot Springs, which is located near downtown Whitehorse and offers a soothing bath while watching the light display.
Take a Stroll in Stanley Park
The first and largest urban park in Vancouver is much more than just a green space. The bustling centre of activity is active all year and has something to see and do for everyone. Take a stroll around Stanley Park's most renowned feature, the Seawall, which has an amazing 5.5-mile paved walkway that circles around the park. More than 16 miles of trails, stunning beaches, local animals, restaurants, and natural, cultural, and historical sites are all available to visitors. There's also a waterpark and picnic spots to keep you occupied.
Soak Stress Away at Banff Upper Hot Springs
If the prospect of carefully lowering yourself into a hot pool of natural mineral water while taking in magnificent mountain vistas appeals to you, Banff Upper Hot Springs should be on your must-see list. The highest functioning hot spring in Canada, Banff Upper Hot Springs, is open all year (even in the winter). A dip in the thermal waters on the summit of Sulphur Mountain is especially relaxing after a day of hiking or skiing in Banff or the nearby districts. Alternatively, go early in the morning before it becomes too crowded later in the day.
Bike the Confederation Trail
Do you enjoy going on adventures on two wheels? A ride along the Confederation Trail will not disappoint you. The old railroad line that stretches from one end of Prince Edward Island to the other is now a 270-mile walking, cycling, and snowmobiling route. Set off on your own or arrange a tour with one of the many local guides. Expect stunning scenery along the way, as well as the opportunity to stop in at a number of coastal communities for a local dinner or simply to soak up some PEI culture.
Snap Some Photos of Peggy's Cove Lighthouse
Despite the fact that Nova Scotia has 160 lighthouses, Peggy's Cove Lighthouse (also known as Peggy's Point Lighthouse) is one of the most well-known and photographed in the country. Peggy's Point Lighthouse, painted in red and white and overlooking a huge bay, is located in the fishing town of Peggy's Cove on the South Shore. It was erected in 1915 and remains a sturdy light. Make a pit stop in the neighbouring fishing hamlet for some fresh marine lobster after you've taken the obligatory photographs.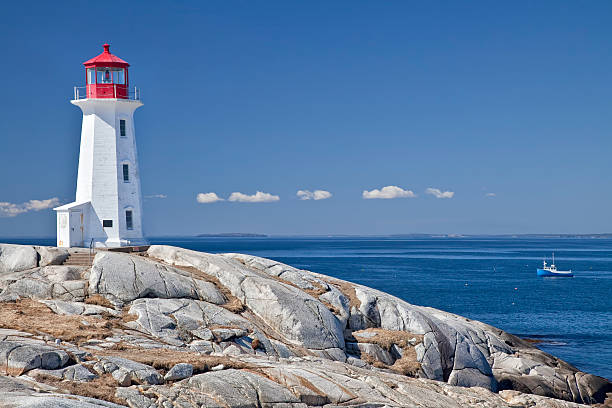 Take a Walk on the Halifax Waterfront Boardwalk
The approximately 2.5-mile Halifax Waterfront Boardwalk is located on the Halifax waterfront and is one of the world's longest downtown boardwalks. And this walk isn't only for the sake of taking in the beauty. Many cultural and historical experiences, such as the Canadian Museum of Immigration at Pier 21, may be found here. Along the route, stop by the Halifax Seaport Farmers' Market (North America's longest continually operating farmers' market) for a bite to eat. Or simply stroll through the many little stores and boutiques along the road. After a day on the lake, reward yourself with a lunch at one of the excellent
Traverse the Capilano Suspension Bridge
A walk around the Capilano Suspension Bridge will immerse you in nature and give you a bird's eye perspective of the forest canopy. Take a deep breath as you cross the 459-foot span that stretches over 230 feet above the raging Capilano River. If that wasn't enough, once you've crossed the bridge, there are a few more adventures to be had. The Cliffwalk is a series of elevated walkways over the rainforest, while the Treetops Adventure is a series of seven bridges hung 100 feet above the forest floor by 250-year-old Douglas firs.